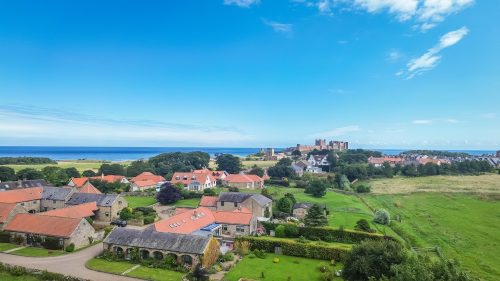 Whether experiencing "empty-nest syndrome" or undergoing other changes in circumstance, you may have found yourself re-evaluating where and how you wish to live, with a desire to capture the opportunities presenting themselves as you move towards retirement.
Post-pandemic, we have undoubtedly changed the way we live, and this experience has, for many, brought one subject into sharp focus; where do you really want to be at this stage in your life? Instead of fearing downsizing and feeling wistful about the prospect of moving on from the long term family home, we invite our clients to view it as an energizing prospect with the ability to shape your life in the most positive way.
The 'upsizer' market has a very clear wish list; with a focus on larger gardens, home offices, ultra-fast broadband, and proximity to outstanding schooling being top priorities, but what about the downsizer – or, more accurately, "right-sizer", a term more suitable for those choosing a smaller, lower maintenance yet not necessarily more affordable home?
Starting a new phase in life, eliminating the high costs of maintaining a larger property, particularly in the midst of the energy price crisis, streamlining daily routines or just taking an exciting leap for a complete lifestyle change are all reasons that have motivated people to "right-size" over the past two years.
Energy efficiency has become a bigger consideration too, as the cost of heating and maintaining a large period home looks set to soar with the rise in gas prices. Ashleigh Sundin, Sales Manager of Sanderson Young's Rare! brand, notes "Many of my clients, who have never before considered a move from the long term family home, even after children have flown the nest, are now actively searching for more contemporary homes with lower running costs. Period homes with high ceilings, fabulous features and sash windows are highly sought after by upsizers, however our older clients are keen to swap this level of maintenance for lateral living of a manageable size offering a gentler pace of life."
Freeing up equity to help children and grandchildren get on the housing ladder or pay school fees is another primary factor behind downsizing, with the "Bank of Mum and Dad" playing a huge role in mortgage deposits and a national estimate of £10bn being handed down in this way in 2022.
Yet this capital might also open up the opportunity of travel or the pursuit of other interests you now have more time for. We have also seen many buyers split their time across two smaller homes in different regions, with more London buyers than ever before searching for a second home on the Northumberland coast. Gillian Greaves, Branch Manager of our Alnwick office, comments "Over several years I have met many clients visiting Northumberland on their annual or biannual holiday, who come to visit me to discuss the market and what is happening in the area. Over recent years, I have found that more and more of these clients, mainly from Yorkshire, Scotland and London, are now changing their perspective on life and looking for a second home in Northumberland, which they can initially use personally or utilise as a holiday rental opportunity until they retire. They will then plan, in time, to sell their main home, allowing for a stress-free move in the future whilst providing them with a great place to stay for their family vacations in the meantime".
A key driver in a large proportion of our buyers who have decided to downsize recently has been the desire to move closer to family. The pandemic certainly made people realise they wanted to be nearer children or grandchildren. The uncertainty of trying to sell a property in a slow market was an added factor in an already pretty daunting life change, however now we are seeing such positive market conditions due to the lack of stock, a quick sale at a premium price is more likely at the top end of the market.
Downsizing should be more about what you are gaining than what you are losing. Financial flexibility and greater disposable income, less home maintenance and ability to holiday, the opportunity to move closer to family and help loved ones on their own property journey.
Wherever you choose to "right-size" to, make sure to enjoy your new way of living.
If you're looking for your next property, contact us today at contact@sandersonyoung.co.uk.