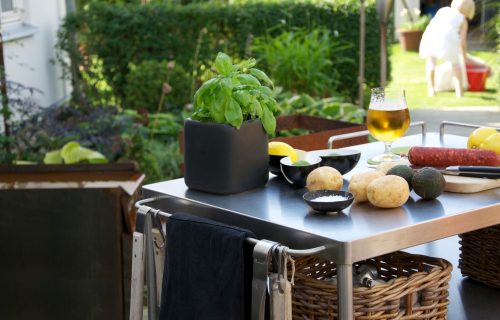 After a long, cold winter, is there anything more soothing to the soul than relaxing summers in the garden? Whether you're firing up the barbecue or chilling on a sun lounger with a cold drink and a good magazine (like ours!), the warming sun rays can make everything better. 
 There is only one thing guaranteed to spoil your mood, and that is an outdoor space that does not live up to your expectations. Turn your lacklustre lawn into the place to be with some of the best suppliers in the North East!  
Outdoor Kitchens: Spy Interiors 
Visit: Unit 5 Dewley Court, Westway Industrial Park, Throckley, NE15 9AW 
Contact: 0191 267 3631 
Follow: /spybydesign 
Website: https://www.spyinteriors.com 
Every home should have an outdoor kitchen. If you are the barbecue king or queen, or regular garden party host, your outdoor kitchen will become the new hub of your home. There is something humbling about cooking in nature that makes the whole process less stressful and more exciting! 
We love the outdoor kitchens at Spy Interiors. The sleek, modern designs beautifully complement your outdoor space, making you want to spend time in your garden, no matter what the weather is doing. If you add a shelter to your design, you can even cook outside when it's raining cats and dogs! 
The clever team at Spy Interiors will help you create the outdoor kitchen of your dreams, customised to your needs and wants. From the initial design to the final installation, they are there every step of the way to answer questions and keep the project on track. Ready to host the party of the summer season? Get your outdoor kitchen booked in now!  
Garden Rooms: All Seasons Living 
Visit: Unit 1, Anthony Street Stanley, County Durham, DH9 8AF 
Contact: 0191 449 0048 
Follow: /gardenleisure 
Website: https://www.allseasonsliving.co.uk  
Whether you're looking to create an office in your back garden, an extra bedroom for an extended family member, or just somewhere cool to hang out in the summer, a garden room is a great, cost-effective option. It helps increase the value of your home without all the construction in your living space, while offering a get-away from the housework once it's built! 
All Seasons Living have some beautiful garden room options. Every room is built to your personal specifications using the highest-quality materials for a long-lasting, maintenance-free space. Your garden room will be completely unique, giving your outdoor area that wow factor that's been missing. 
However you want to use your garden room, it can be installed in less than two weeks and doesn't usually require planning permission. This is a great alternative to a conservatory or extension, that would require months of planning and paperwork before it even gets started!  
Water Features: Green Onion 
Contact: 01642 640303 
Follow: /greenonionlandscaping 
Website: https://www.green-onion.co.uk 
 If you want to turn your outdoor area into a space full of calm and tranquillity, then you need a water feature. The gentle sound of the trickling water is soothing, bringing a fresh element to your exterior that is easy to maintain. And, if you are a nature lover, you'll find you attract all kinds of wildlife to your feature, as birds, squirrels, and maybe even rabbits look for fresh water to drink and clean themselves in.  
We love the water features created by Green Onion, a landscaping company based in Stockton-on-Tees. Whether you want a small, bubbling pool or a fancy, ornate water feature that takes up a lot of space, they can advise and install the best one for you. 
Green Onion install a new water feature almost every time they complete a landscaping project, so they are well experienced in the art. There is no space too small and no garden too grand to enjoy this simple pleasure.  
Landscape Gardeners: Elmfield Gardens 
Contact: 0191 284 4246 
Follow: /elmfieldgardens 
Website: http://www.elmfieldgardens.co.uk/ 
Want to completely overhaul your garden and give it a brand-new look? You'll need the help of a landscape gardener who will take your vision and bring it to life. Transform your outside space into a peaceful oasis, or create a party garden ready for the summer. Perhaps you just want somewhere to sow a few seeds before lying back in your hammock. Your garden can be anything you want it to be.  
Elmfield Gardens is run by Jo McCreadie, a professional landscape architect with over 20 years of experience. Tailoring her service to suit your needs, she can help with ideation, designs, planting, and construction, taking you on a journey of exterior discovery! 
Tell her your vision and watch it come to life as Jo project manages the whole thing. She'll tell you what will work and what won't, so you end up with a garden completely suited to your lifestyle. Based in Newcastle, Elmfield Gardens have worked on gardens big, small, and everywhere in between, making her a true expert in the field, literally! 
 Fire Pits: Gosforth Fire Station 
Visit: 234-236 Gosforth High St, Newcastle, NE3 1HH 
Follow: /gosforthfirestation 
Website: https://gosforthfiresandstoves.co.uk/ 
Is there anything cosier than sitting around a fire as the sun starts to set? The classiest way to do this is with a fire pit or burner. The perfect focal point when you have a garden gathering or you need to do a little soul searching, a fire pit is the finishing touch that every garden needs. 
We love the different options available at Gosforth Fire Station. They make us want to gather around with marshmallows on sticks and sing along to someone with a ukulele! Their eco-friendly burners have been cleverly crafted to ensure there is no excess smoke but plenty of warmth, so you can sit outside even when the warmer weather has left us. 
There is something enchanting about watching the dancing flames slowly burn through the wood. If you haven't got a fire pit yet, what are you waiting for? Give Gosforth Fire Station a look.