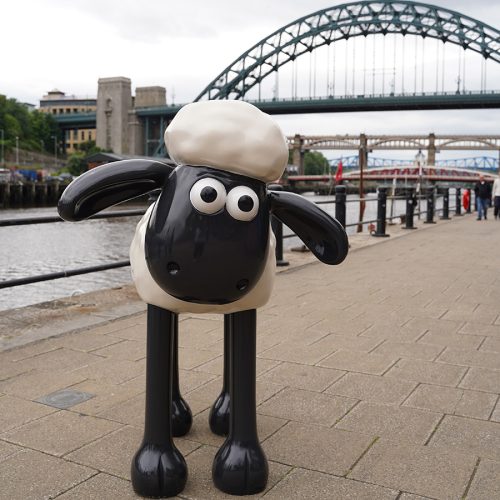 Shaun has finally arrived and it's been an incredibly busy time for everyone involved in this remarkable local charity art event. You may remember the huge success of past trails where eye-catching painted sculptures, including the Great North Snowdogs and Elmer's Great North Parade, popped up in large sculpture form around the North East and an awesome art trail treasure map of the city ensued.
This time St Oswald's Hospice's exciting new trail features the Oscar winning and extremely loveable character Shaun the Sheep, a well-known and mischievous figure loved and recognised by all. An inspired collaboration between St Oswald's Hospice, creative producers Wild in Art and Shaun the Sheep creators, Aardman, and with the huge support of headline partner Newcastle City Council, the city and the surrounding areas have been transformed by the arrival of these amazing super-sized sculptures.
The eye-catching flock are located amongst some of the city's most iconic landmarks, from the glorious Quayside to right in the heart of the bustling city centre, and also from the East to the West of Newcastle from suburbs like Gosforth to Byker and beyond. The trail is also easily accessible by foot and completely free, you can pick up a paper map from the Shaun The Sheep HQ located in the Civic Centre or download a dedicated App. These fun maps help you navigate your way to discovering each fabulous sculpture, and the downloadable app allows you to unlock a series of rewards and fun facts. You can also buy all the must-have (and super cute) merchandise from the Shaun The Sheep HQ, remembering that this all helps to raise money for this important charity.
Each Shaun the Sheep sculpture has been uniquely designed by local and national artists and there is also a series of smaller 'Little Shaun' sculptures, adopted and painted by schools and youth groups, which are on display as part of the adventure. These wonderful art pieces are truly something to be seen and  add colour to the streets, parks and public spaces of Newcastle and its surrounding areas, for both young and old art lovers and Shaun enthusiasts alike, and it's always just such a fun and interesting way to spend a few days or even sometimes weeks!
This whole wonderful event is of course to celebrate and support the truly incredible work that has been done by the community and St Oswald's, throughout and after the pandemic. At the worst times this crucial charity were unable to fundraise, issues occurred due to people being unable to work and shops were closed, all this meant awful pressure on this immeasurably important charity. Whilst inspiring people of all ages to celebrate our city, this trail also increases public awareness about hospice care and its importance and impact on our whole community.
Following the brilliant treasure trail, there is also an exciting two day event which will see the large Shauns being auctioned off to raise funds and awareness for St Oswald's Hospice, which will allow this local charity to continue their vital work with North East families with life-limiting conditions. From 19th July – 27th September 2023, this brilliant, family-friendly art trail for locals and visitors alike will be popping up around our beautiful city and it is most definitely one to make a note in your diary for.
19 July – 27 September 2023