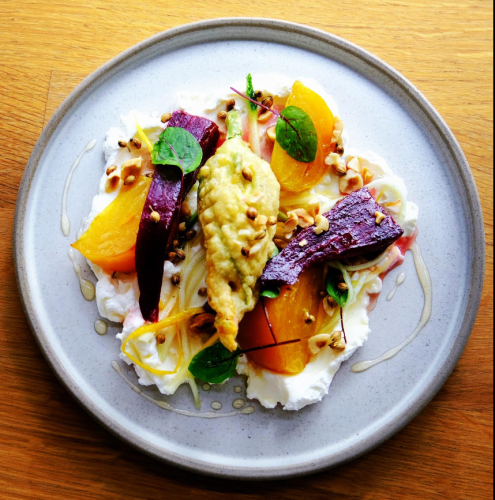 There is no place like home but let's be frank there's also no place like sitting in a restaurant and having someone else serve up fine wines and tasty plates of food. If you're local, you already know that eating out in the North East has never been better or more interesting, with the eclectic mix that now inhabits our fine region, and with a troubling few years behind us, and it would still seem ahead, local independent restaurants more than ever need our support. We've happily rounded up Gosforth & Jesmond's finest local neighbourhood eating establishments, from long-standing favourites to new openings – discover our top four local restaurants that those in the know want to keep a secret or at least book before you!
Ophelia –
It's hardly surprising that this bijou new restaurant in Gosforth has immediately gained such popularity as they have been running their hugely popular restaurant in Jesmond, The Patricia, long enough to know exactly what their hungry clientele want. Ophelia is located in Gosforth, a place that has been calling out for a new eatery, and it really does feel like a neighbourhood joint. This wonderful space has narrow, high ceilinged rooms with a big open kitchen, stylish dark interiors and dimly lit candles that all add to the inviting atmosphere. This is a restaurant that exudes cosy, self-effacing charm, rather than a slick, drilled service and the food, as one would expect, is incredible – from their well priced, highly considered Table d'Hote to their intriguing and boundary pushing A la Carte and not forgetting their truly delicious Sunday lunch menu. Ophelia also has a hugely exciting wine cellar full of incredible wines from throughout France, thoughtfully selected to go with all the delicious courses and a must for anyone who loves wine. We are still thinking about the mussel and pollock bouillabaisse and the heavenly black pepper crème brulee, all washed down with their exquisite French champagne. An inviting neighbourhood restaurant bursting with ambition, Ophelia has had people excited from the start and it's not hard to see why.
Lovage
Sometimes restaurants guarantee more than just great food and Lovage is one of those places. Always buzzing with energy, conversation bounces off the stylish walls of this intimate and informal  Jesmond eatery and a touch of rustic chic doesn't distract from the delectable food and all round friendliness. The brainchild of chef and part-owner, Kleo Tabuku, who has now fulfilled his life-long dream of owning his own Mediterranean style bistro, the restaurant is a reflection of his deep connection to his homeland and an innate understanding of his 25 year career. Drawing inspiration from across Europe this local independent restaurant is passionate about using the very best local produce and this is reflected in their mouth watering selection of thoughtful and intriguing dishes. The menu itself boasts vibrant and flavourful dishes, with small plates, generous sharing plates and large plates, and their hugely appealing Sunday lunch menu, certainly a reservation not to be missed. We highly recommend the monkfish cheeks in dill pollen batter and we are still salivating over the incredible lamb shoulder. This is the way neighbourhood restaurants should be and we can't wait to return.
Little Lobo
Little Lobo's bustling taquerías reign supreme in the North East and with two successful spots now firmly under their belts, one in Tynemouth and most recently in Sandyford, their delicious dominance looks set to continue. Boasting an exciting menu including mouth watering slow cooked pork burritos, blackened shrimp tacos, and the most scrumptious homemade salsas, Little Lobo is most definitely the North East's place-to-go for authentic and truly delicious offerings. The newest addition in Sandyford is informal and fun, and the energy of the place is great for last minute dinner reservations or a relaxed catch up with friends.  Service is cheerful with great attention to detail and huge knowledge of their delectable food. The restaurant's street food dishes are made for sharing, from a range of meat and vegetarian tacos to quesadillas, and you can opt for lots of their appetising sides, such as elote ribs or their infamous cadillac nachos. Come for the perfectly balanced frozen margaritas, stay for the cheesy asada torta and the ridiculously moreish chips and guac, and you will certainly leave very satisfied and planning your next visit. Be warned that the taco fans of the toon are a hungry bunch, so its worth booking a table if you're looking to enjoy Little Lobo in all its glory.
Long Friday
We couldn't compile our favourite neighbourhood restaurants without including Long Friday. Situated in the heart of Jesmond on the bustling Brentwood Avenue, this wonderful eatery is the brainchild of Anna Hedworth and is the younger sibling of her highly successful Ouseburn restaurant Cook House. Long Fridays encapsulates all that you could want from a local restaurant, intimate and welcoming, the perfect place to hang out with friends, and their experienced, friendly staff make you feel instantly at ease. The highly considered and cosy interiors match this seamless experience and as you peruse the substantial and intriguing wine list, it immediately becomes apparent this is somewhere you could be very happy for quite a while. The wonderfully inviting menu mixes the very best in seasonal and local produce with interesting dishes that will fascinate and charm you all at once. The menu is ever changing, but always features small plates, appetising snacks, delicious local meat, sustainable fish, delectable vegetable dishes and incredible desserts. This place has flair, modesty and a focus on nuanced flavours, we are currently obsessing over the fried sage leaves in Wylam beer, bavette steak with bone marrow crumb and the ricotta bomboloni donuts. This is a very happy and delicious place to find yourself and exactly what a neighbourhood spot should strive to be. So many delicious reasons to go back.